British American Tobacco – Global Graduate Program Hiring Campaign
The Brief
When you have the opportunity to build from scratch an Employer Branding and recruitment campaign for one of the most appreciated employers in Romania, it is a good idea to come up with a creative concept that resonates with the target audience.
British American Tobacco knows that in an increasingly tight labor market, smart and well targeted campaigns are needed to attract the best candidates, especially among young people.
For the Global Graduate traineeship program, Pattern started the campaign strategy from the audience: young people who have just finished college. Specifically, generation Z. This generation is in search of truth, they place great value on individual expression and avoid labels. But most importantly, they believe in authenticity.
The Challenge
British American Tobacco hired us to deliver an exciting hiring campaign for two of their Management Traineeship positions in HR and Finance, as part of their Global Graduate Program.
The Solution
We filmed and produced 4 different videos, 2 for each job, in order to promote the campaign via Social Media ads and posts. We also created a Quiz platform where users could answer a few questions about themselves that would help them find the right path in their career. The company got hundreds of applications in a very short time span, marking a very successful project.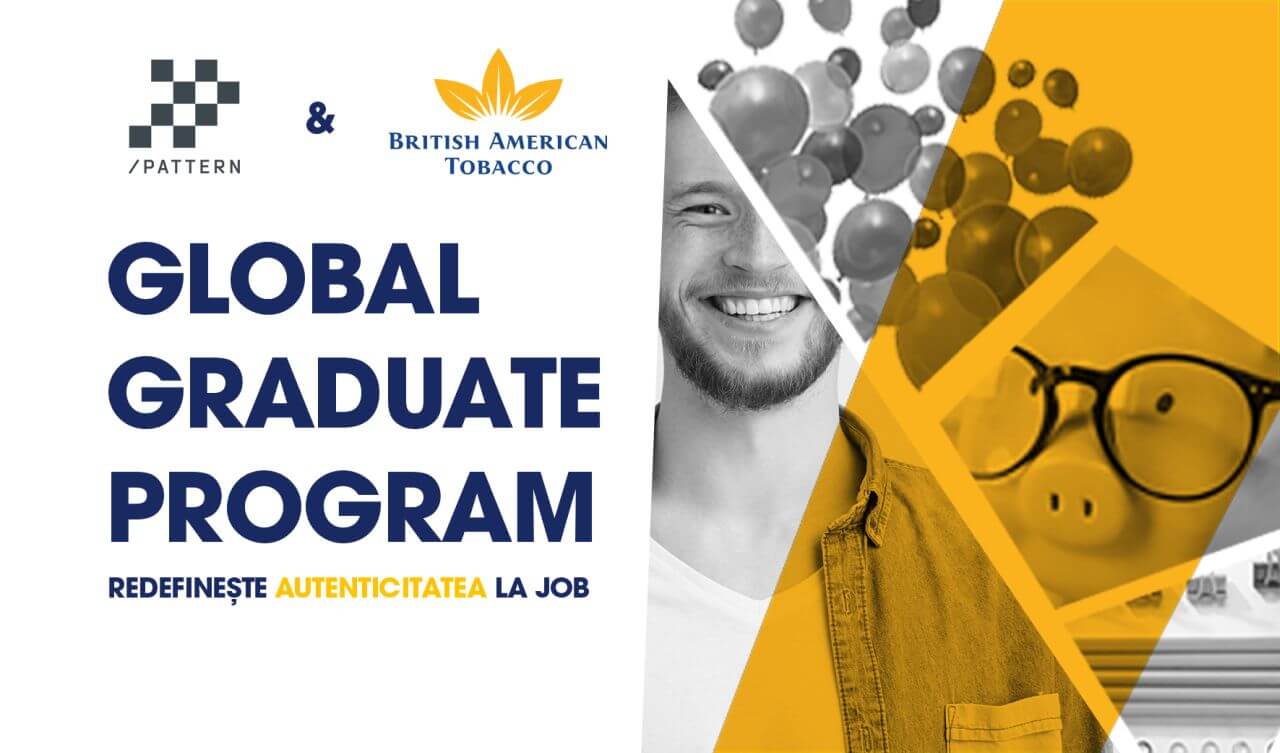 A fresh approach
We were sure that we wanted a fresh approach, with which graduates identify. From here came an insight as real and relevant as possible: each of us has unique behaviors, which make us authentic. And sometimes annoying: D. Some of us are always thinking about numbers and how we can make each penny more efficient. Or we give advice when we are asked, but especially when they are not really needed. Or we are crazy about order and we even arrange the twine between the ears of the needle. Or we simply have a living energy that is like an ant hill beneath those around us.
All of these can be interpreted as weaknesses, but in reality, if we rethink a little and cultivate them carefully, they can become our best allies. And to help us tremendously in our career and personal life. This is the direction in which we focused our campaign. The BAT mentors in this program can help young people identify their behavior patterns and transform them into relevant strengths in the workplace. But first, you need to get to BAT 😊.
The Videos
We filmed and produced 4 different videos, 2 for each department (HR and Finance), each of the videos explaining a little personal "weakness" as an archetype of personality – the Enthusiast, the Advisor, the Money Saver, the Arranger. The tone was fun, personal and authentic.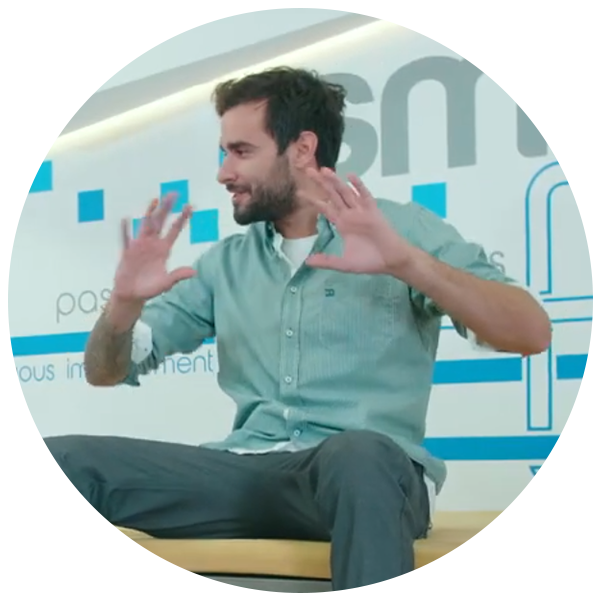 The Enthusiast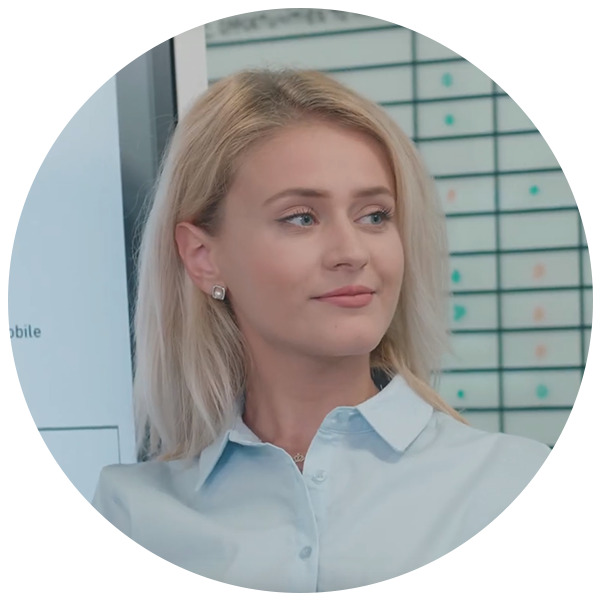 The Money Saver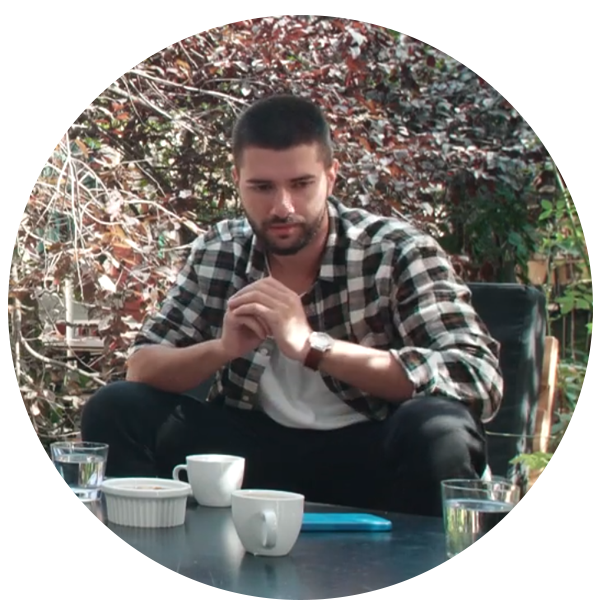 The Arranger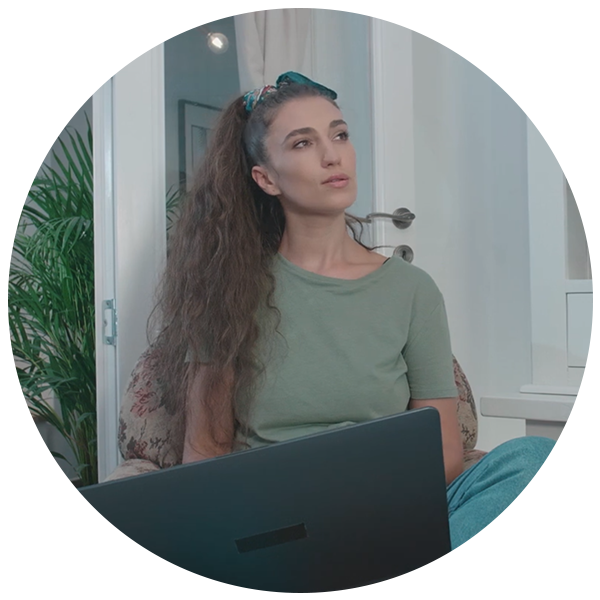 The Advisor
BAT GLOBAL GRADUATE PROGRAM
Video – The Enthusiast
BAT GLOBAL GRADUATE PROGRAM
Video – The Money Saver
BAT GLOBAL GRADUATE PROGRAM
Video – The Arranger
BAT GLOBAL GRADUATE PROGRAM
Video – The Advisor
The Quiz Platform
We created a fun, interactive Quiz platform for British American Tobacco where users can answer a few questions about themselves, being guided along the way by a "mentor". Based on their answers, they were directed to either the HR position or the Finance one. This created quite a buzz and generated a very positive feedback from the users.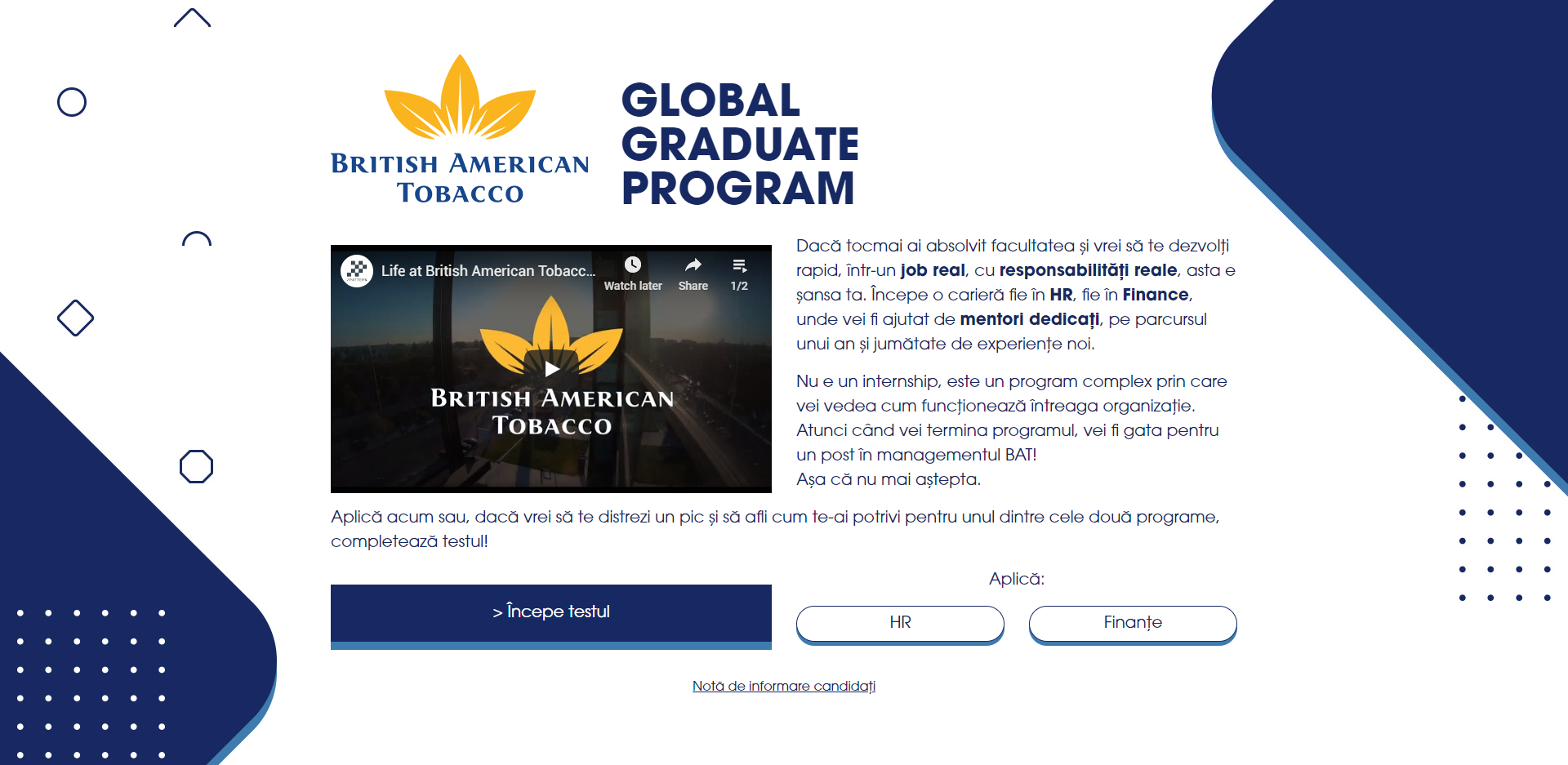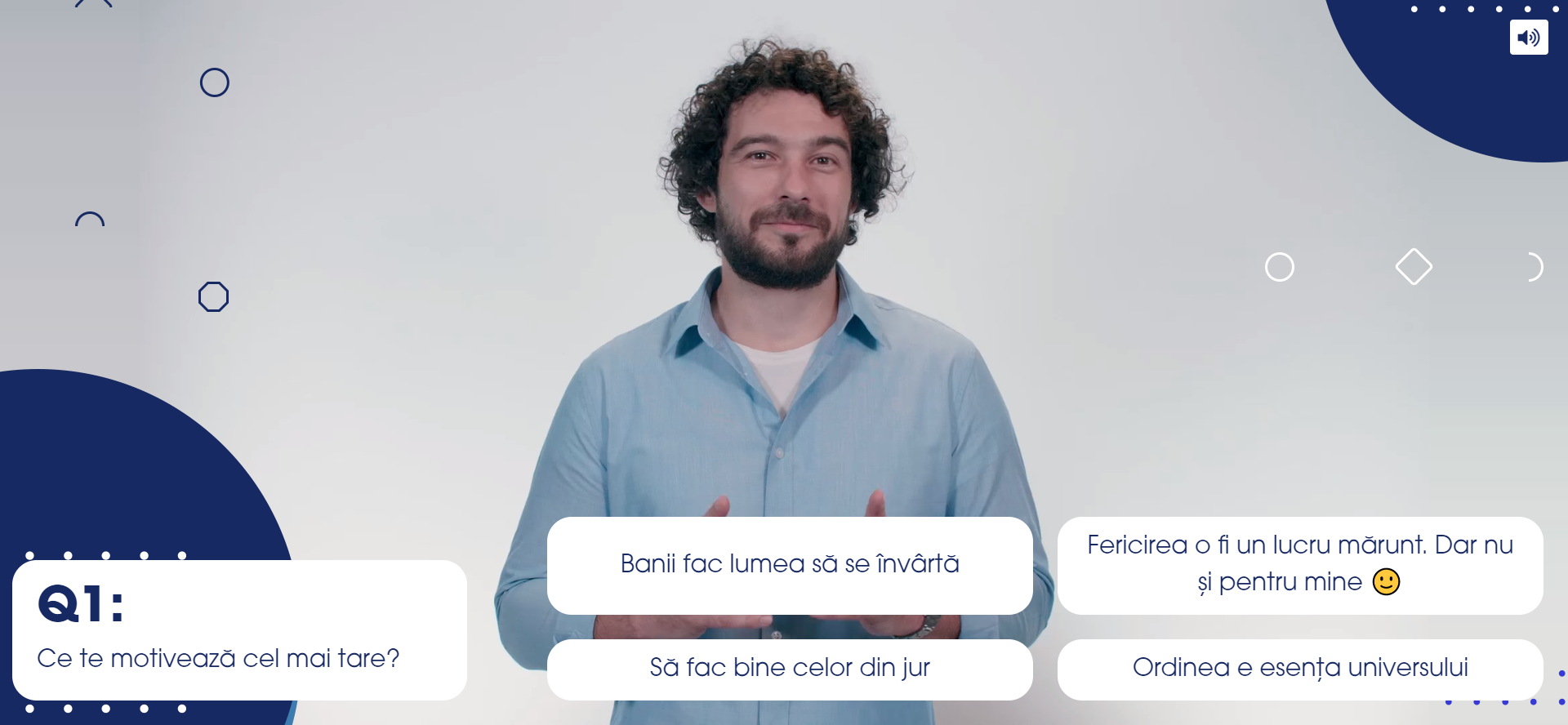 The Objectives
Assessment groups of 6 candidates each
The Results
Website Visits
4x the target
Applications Received
5x target
Assessment groups of 6 candidates each
Happy words from our Client 😀
Complete and autonomous. These words sum up the collaboration with Pattern very well.
I appreciated that I always knew where we are and what is in the role but I was never bombarded with details. Where my OK was needed, everything was punctual, short and to the point and that gave me confidence that you were on top of the situation.

I also liked that you came up with various artistic tricks and suggestions along the way that made the final product more appealing, although the original pitch was very strong anyway.

I can tell you directly that it was the best collaboration of its kind that I have had personally (and here compared to the big agencies in the UK). For a project manager trying to cover 10-15 things at a time, it's very cool to have an agency next to you that not only doesn't give you headaches but also comes with aspirin just when you need it.
However, in the end, the result matters most. The campaign was successful, it created the necessary hype and almost tripled the number of candidates. The world was interested, the bosses were pleased.

Happy end.
Other Projects you might like
Pattern
2020-03-22T12:01:57+02:00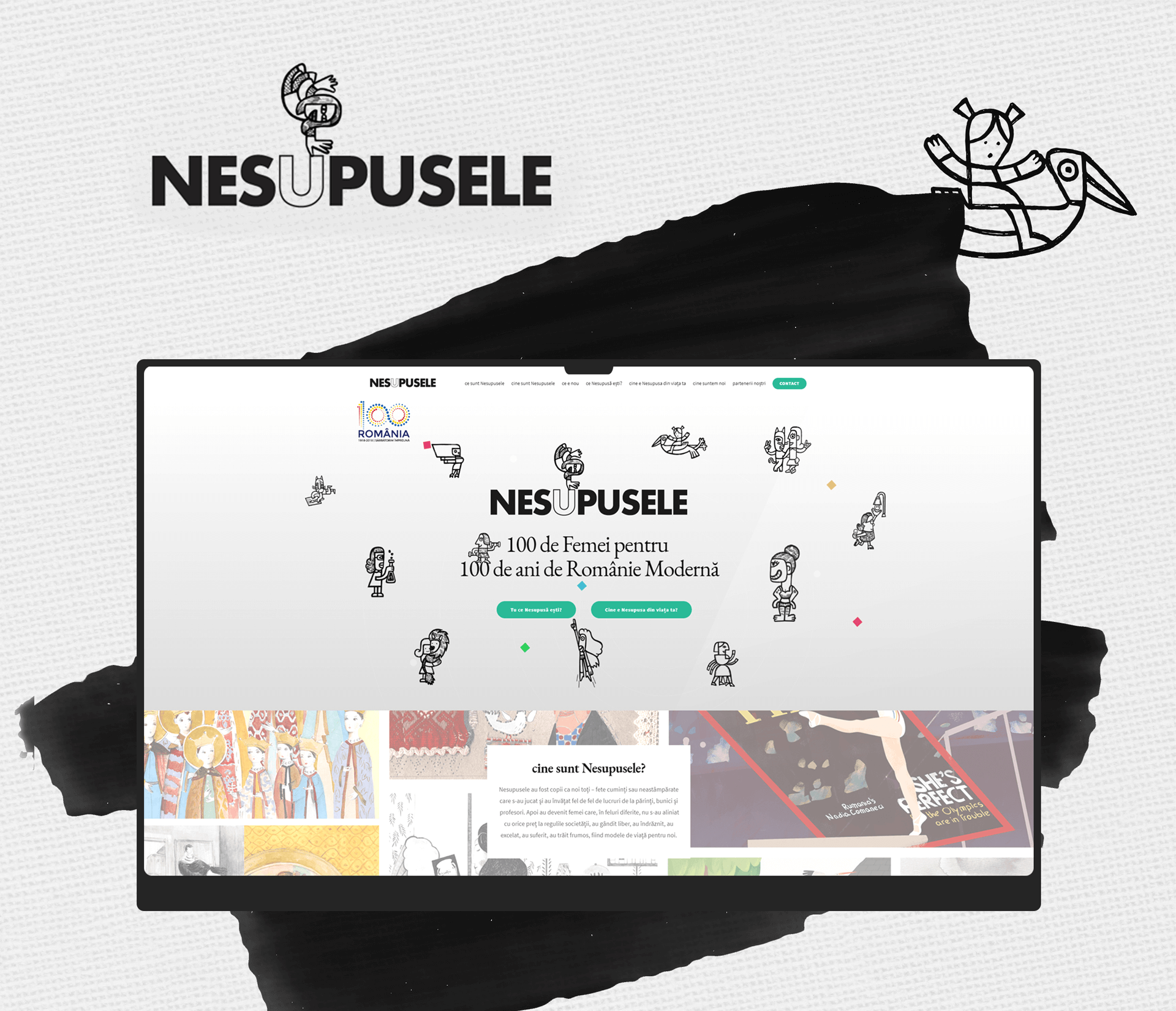 Nesupusele - Web Design & Web Development Service Categories: Web Design & Web Development The [...]
Got your attention?
Contact us and let's talk about your projects.